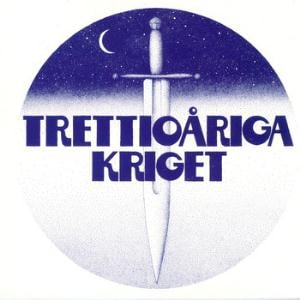 s/t- TRETTIOÅRIGA KRIGET originally released in August 1974.
Rereleased and remastered with bonustracks in 2004.
TRACK LIST
Kaledoniska Orogenesen (Fredin-Åkerberg-Thörnvall) 5:20
Röster från minus till plus (Fredin-Thörnvall) 7:54
Fjärilsattityder (Åkernerg-Thörnvall) 5:26
Mina löjen (Fredin-Thörnvall) 8:09
Ur djupen (Fredin-Thörnvall) 3:46
Handlingens skugga (Fredin-Åkerberg-Thörnvall) 7:39

Under the pendent roof (Fredin)9:36
I´ve got no time (Lundquist) 3:39
Perspektiv (Fredin-Thörnvall) 7:40
INFORMATION
Recorded and mixed in Q8 Regular Matrix 4 Channel Stereo at Europa Film
Studios 1 & 3 Stockholm, Sweden may-july 1974.
Engineer: Björn Almstedt
Bonustracks 7 & 8 recorded at Samskolan, Saltsjöbaden, Sweden by Björn Carlsson & Dag Lundquist dec 1972.
Bonustrack 9 recorded live at the Concert Hall, Kristiansstad, Sweden feb. 1975.
Original cover artwork by Johan Gullberg.
Cover design by Ossie and Johan Gullberg.
Photos by Gabriel Uggla.
Photos recording studio: Jan-Åke Persson
Remastered by Claes Persson & Dag Lundquist at CRP Recording, Stockholm, Sweden june 2004.
Arranged by Trettioåriga Kriget
Original album produced by Adrian Moar.
Stefan Fredin- bass guitar
Dag Lundquist- drums, Mellotron
Robert Zima- vocals
Christer Åkerberg- guitars
plus Dag "Krok" Kronlund- piano on track 7